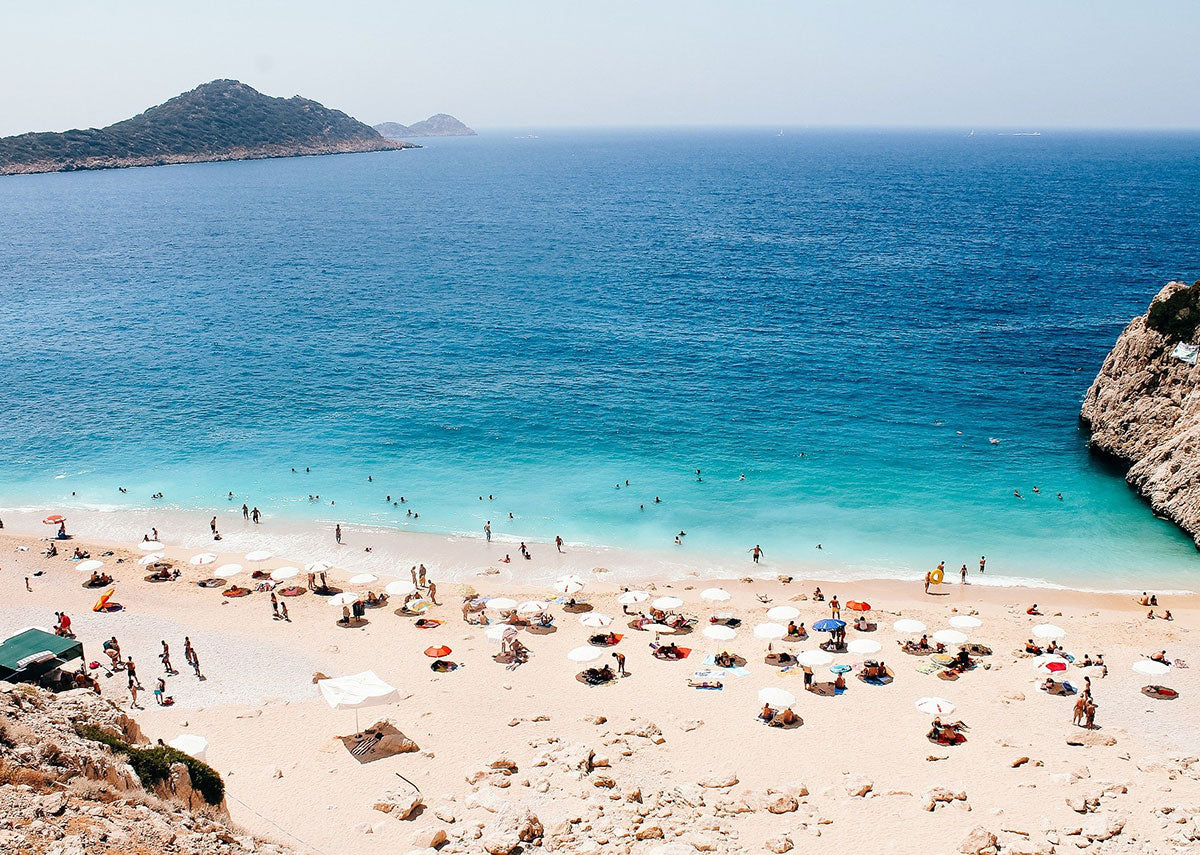 The summer holidays are fast approaching, and this can be a tricky time for families, finding somewhere to go that will keep both the adults and the children happy. Preferably you want somewhere that is all-inclusive, where your kids can meet other kids of their age and indulge in some fun activities while you can spend some quality adult time together. We love travelling as a family, which is one of the reasons why we developed our kid's towel robe - to make our lives so much easier.
If you are planning on heading away with the kids this summer, we've already talked earlier in the year about child-friendly beaches in the UK, so here are some ideas of places to go in Europe:
Çıralı, Antalya, Turkey
One of the most unspoilt beaches on the Mediterranean, it is surrounded by lemon groves, forest and mountains. The beautiful surroundings look unspoilt and are perfect for gazing at while you are relaxing/playing on the beach, but don't worry there are plenty of cafes and restaurants where you can refuel. One of the things that is unique about this beach is the loggerhead turtles who swim ashore each summer to lay their eggs beneath the sand - a natural phenomenon which is incredible to see.
Île d'Oléron, France
If you know anything about us, then you know we love to cycle - which is one of the reasons why we love Ile d'Oleron. It is one of France's largest islands and has over 70 miles of bike lanes which pass through marshlands, fields and pine forests. There are also plenty of long, unspoilt sandy beaches as well and if you do go, you should hunt for the Plage de Gatseau for lots of great shell hunting.
Lindos, Rhodes
Now don't freak out at the thought of going to Rhodes, as Lindos is as far away from the modern brash resorts you probably associate with this area, as you can get. To start with, cars are not allowed due to the preservation order in place, so you and the kids can wander around its pretty cobbled streets at will. There are also two beaches for you to explore, the long sandy ribbon which is Lindos Beach, or the Pallas which is well stocked with sunbeds and has a water sports centre as well.
Llafranc, Costa Brava, Spain
Not all resorts on the Costa Brava are the same, and Llafranc can certainly not be described as rowdy. It is the perfect place to grab some peace, while also having enough activities going on to keep the family entertained. The resort consists of a lot of little coves which have been chipped out of the rugged, hilly coastline. There are lots of places nearby to explore, such as Cap Roig (magnificent botanical gardens) and a red brick neo-Gothic castle as well.
Praia de Barranco, Algarve, Portugal
If you travel along the Algarve coast a few kilometres from Sagres, you will stumble upon the beautiful Praia de Barranco. This lovely family beach is tucked away from the ocean swells so that you can relax in the clear, calm turquoise water. It is located in one of the areas on the Algarve coast that have not been developed yet, so don't expect a lot in the way of facilities although the local Pine Cliffs Residence offers kids clubs which regularly win awards.
If you are heading off with the kids this summer and want to grab one of our kid's towel robes, then order one off the website today while stocks last.
www.thebooicorestore.com