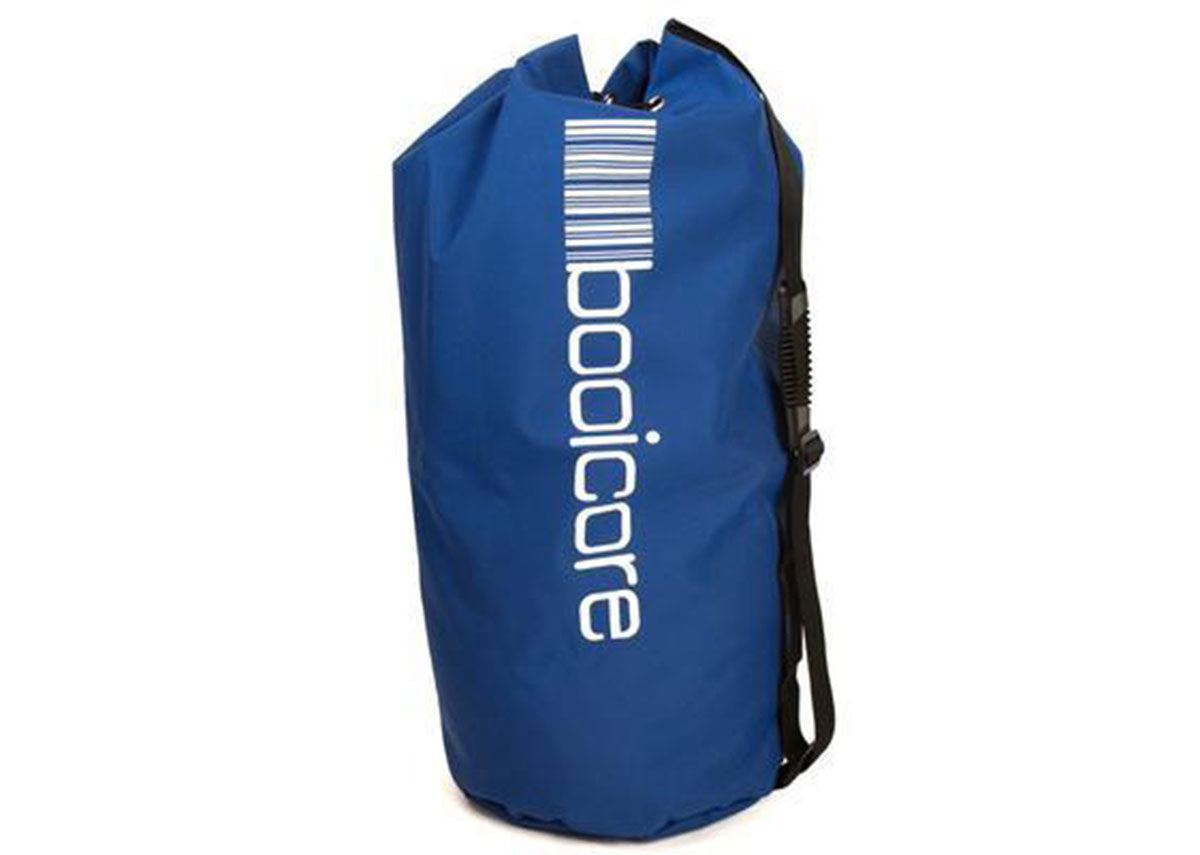 As a keen runner, I am always looking for kit! I seem to spend more on running than I ever did on any other hobby or interest. There's so much to buy – running shoes, activity watches, compression gear………..the list goes on. I have recently taken up trail running to mix it up a bit and to get off the concrete plus the races are much more fun. The only trouble is they tend to mean a lot more mud!
Unlike road races where your kit gets stored in a nice clean room in a nice clean bag, you end up throwing your bag in a tent at best. You finish the race caked in mud and then have to transport your muddy stuff home in carrier bags. Well not anymore. I recently saw a post somewhere for the booicore dirtbag. It's a new product – launched about 3 months ago but it looked hardy and big enough for a spare set of kit or two and robust enough to handle the dirt.
I ordered one – at £26.99 it wasn't a fortune – the only problem I had was deciding which colour as it is available in blue, black, grey and orange. In the end, I went for blue – it was either that or the orange and I didn't want to stand out too much. The day it came it turned up nicely packaged and I have to say I was a little excited. I couldn't wait to use it and luckily I didn't have to wait long. I had a trail race two days later and this was by far the muddiest of them all.
When it came to packing it I was shocked at just how much room and how many different compartments there were – all in different sizes as well – perfect for putting trainers in one, clothes in another and a handy small side pocket for your phone and keys. I packed a clean change of clothes, my booicore towel, a spare pair of trainers and everything else I would need, including wet wipes. I wore my trail stuff but it was going to end up going back in the bag dirtier than it was when I started so I chucked in a carrier.
The bag is big but it has a great shoulder strap to shoulder the weight and size. It was really comfortable to carry. I had a few comments about how roomy it looked and where did I get it from – especially from the tri-athletes. As predicted when I arrived at the race it went straight on the grass – I was a little upset that my nice clean bag had mud on it so early but had to tell myself that's what it's for. Anyway, after the race, I changed, and put my shoes and muddy kit in my dirtbag in a separate compartment to the clean stuff. I chucked it in the boot and off I went – no dirt in the back of my car and no dirt all over my clean gear.
I can only thank the team at booicore for coming up with a great and well-needed product and I know it is going to serve me well for a few years to come!