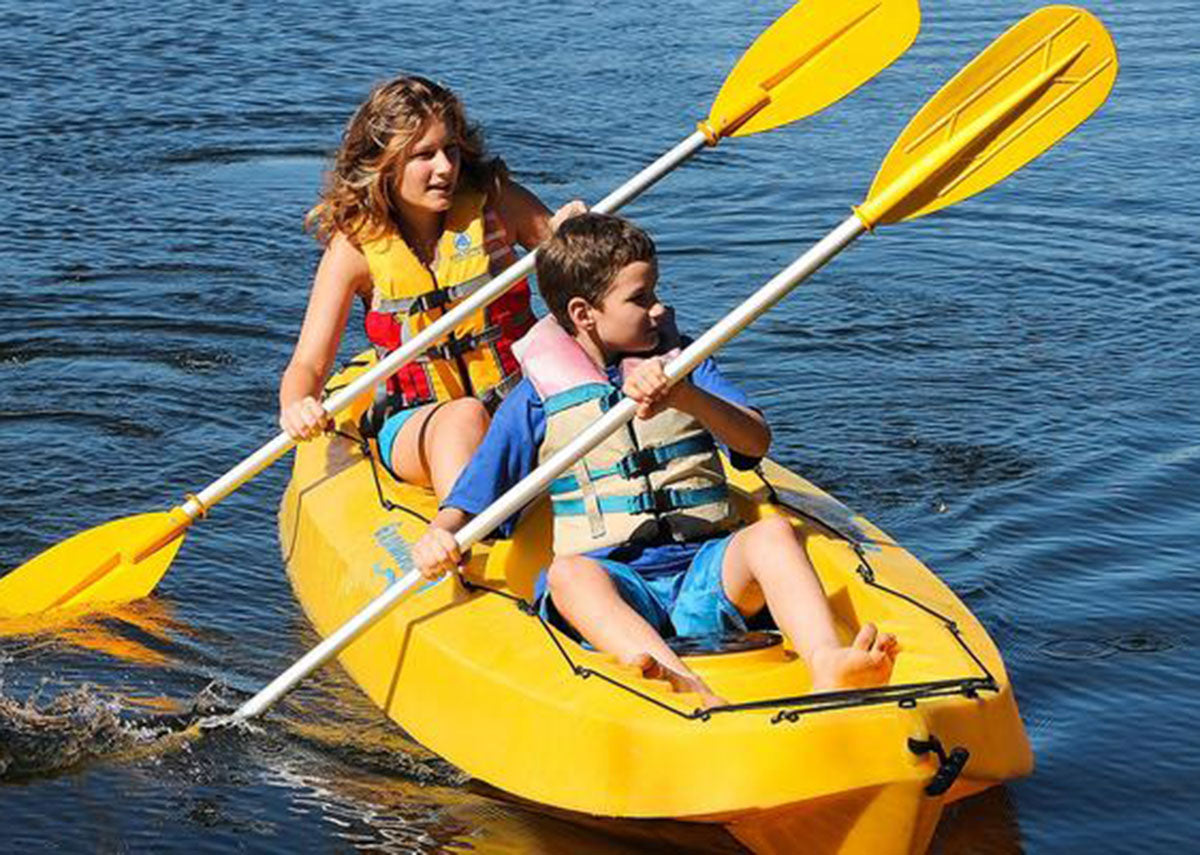 Here at booicore, we are lovers of the great outdoors, to the point where our business was founded on the creation of the best changing poncho on the market. We wanted a hooded changing robe which not only offered us plenty of room to get changed while protecting our modesty but also kept us warm and cosy as well. Mountain biking is our first love, but we have recently taken up kayaking too - as it is relatively easy to pick up, just like cycling. If you fancy paddling along happy this year, here are our top ten kayaking tips. 
#Tip 1 Grab a Lesson
Although we have said that kayaking is simple to pick up, as with any water sport it is always advisable to have a lesson first to make sure you have the basics down right and that you know exactly what to do if you capsize. Head on over to the Go Canoeing website to find a starter session at a location near you - they tend to start at around £5 so you won't be out of pocket.
#Tip 2 Never Kayak alone
No matter whether you are a beginner or have been kayaking for years, it is never a good idea to kayak alone. This means that if you do happen to get into trouble, there will always be someone there to help.
#Tip 3 Use the right size Kayak
A Kayak is not just a Kayak - it could be a short freestyle Kayak or a long narrow racing Kayak amongst other things. The boat you choose should be suited to the water you are going to be paddling in; for example, if you are paddling on a lake then you will be best going for a flatwater kayak. If you are a complete novice, then a sit-on-top Kayak is useful as it is stable and easy to paddle.
#Tip 4 Sit Properly
One of the things you should pick up from your Kayak starter session is how to sit correctly in your Kayak. It is best to sit upright with your lower back at a 90-degree angle from your bottom - in other words, don't slouch! Your feet should rest in the foot pegs with your heels in the centre and toes pointed out, while your knees are bent up and out and in contact with the thigh braces.
#Tip 5 Hold the Paddle correctly
Again, this may sound like an obvious tip, but you'd be surprised how many people make basic errors. You should hold your paddle with both hands, placing them just over shoulder distance apart with the inwardly curved side of the paddle facing you and your knuckles in line with the blade.
#Tip 6 Dress for the Water Temperature, not the Air Temperature
If you are lucky enough to be Kayaking on a hot and sunny day, then you may decide to wear shorts and a tee shirt to keep cool. Big mistake. Huge. Remember that although the weather may be glorious, the water will still be freezing cold and so you should dress for that (just in case you happen to fall in!) A wetsuit, waterproof cagoule and kayaking gloves are your best bet and don't forget to take your towel changing robe with you as well.
#Tip 7 Wear a Buoyancy Aid
This tip again applies whether you are an experienced Kayaker or a complete beginner - regardless of how strong a swimmer you are. A buoyancy aid is not the same as a life jacket, although it is similar, it does give you more movement around the arm and neck which makes it more suitable for paddle sports. Either hire one from your kayaking school or buy your own and make sure you wear it every time. Safety first.
#Tip 8 Bring a change of Clothes
Even if you think you are not going to get wet, you probably will, so always bring a spare change of clothes. Simple advice but you will be eternally grateful. Although you could wear your changing poncho home if you forget!