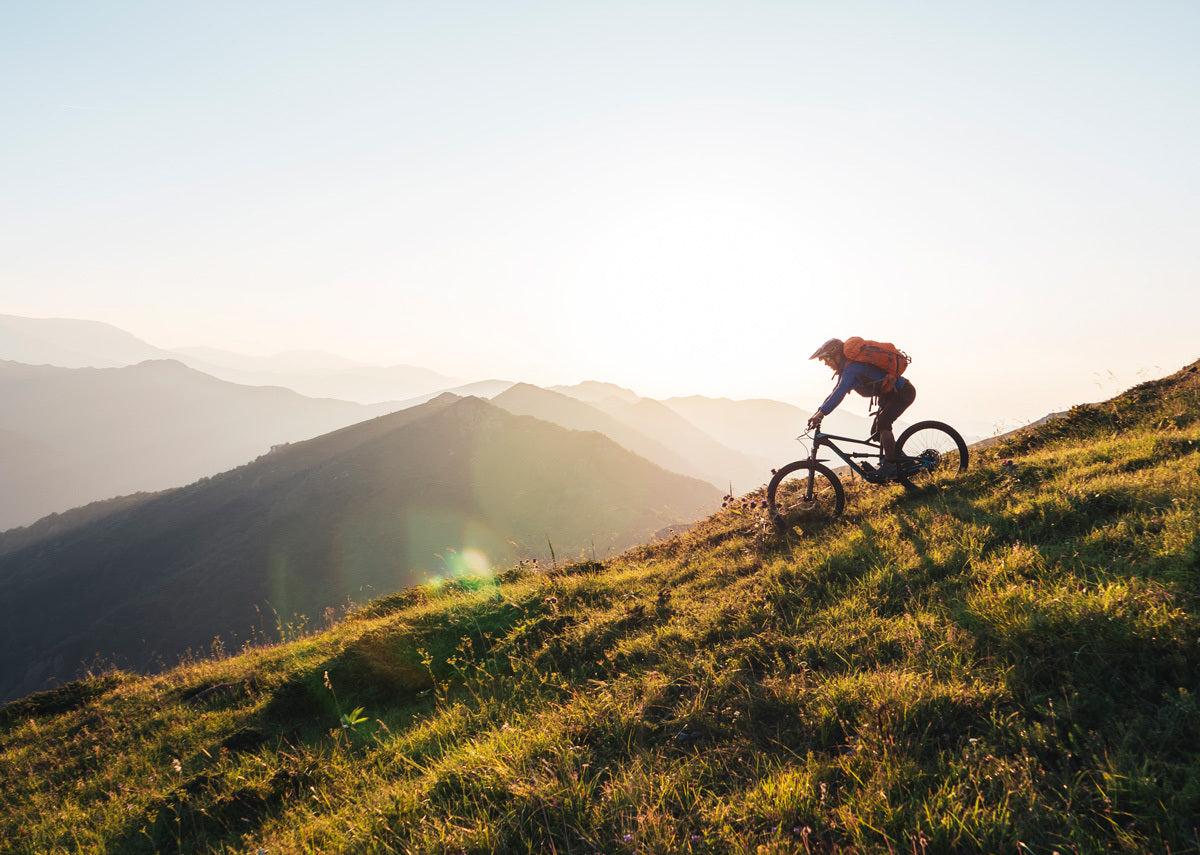 In case you hadn't already realised, we love mountain biking here at booicore. After all, it's one of the main reasons why booicore exists. Julian, the boss, is a keen mountain biker and all-round sports fanatic who has spent years struggling with getting changed outdoors - which is how the booicore towel poncho adults was born! 
If you've never been mountain biking, then read on. This article should help to convince you that it is a sport for all of the family to enjoy - which is why you should make 2021 the year you get into mountain biking (finally)!
We love mountain biking for a variety of reasons, not least the fact that it helps us to escape from the real world - which I think we all need a bit of after the year we've just had. When we hit the trails with the family it's a great way to let off steam, while solo cross-country rides are just what we need to test our technical skills.
It's fairly easy to practise the sport of mountain biking as well, with thousands of miles of off-road routes accessible across the whole of the UK – and due to its popularity, there are plenty of organised events.
Mountain Biking Events
When most people talk about mountain biking, they are talking about races or events - and these fall into five categories:
Cross-country - also known as XC or XCO, these races vary in length depending on the category of rider and are run on multiple laps of a cross-country course. Often containing over 100 competitors, they are run on large fields and riders must be self-sufficient and can only get assistance in a dedicated technical zone.
Cross-country eliminator - a shorter and more explosive version of the cross-country race, which is quite similar to the four-cross race. Four riders compete on a short course, with each race lasting just a few minutes - there are qualifying heats to get through with just four riders remaining for the final.
Cross-country marathon - similar to a standard cross-country race but on a longer course or using multiple laps of a typical cross-country course.
Downhill - usually starts with a practise run where riders learn the course conditions and terrain and this is then followed by a timed run which is used to seed the riders for the final - where the fastest rider goes last.
Four-cross - four riders race against each other on a steep, technical track with the race starting from a mechanically-controlled starter gate. Races progress through knockout stages until the final, where the winner is decided.
If racing is not your scene, then there are lots of venues available for recreational mountain biking - with 'venues' meaning the great outdoors basically! We are lucky in the UK to have access to a network of bridleways and other legal rights of way which are perfect for exploring. There are also lots of mountain bike trail centres dotted around the country which also give you access to bike hire, cafes, changing facilities and bike washes.
Variety of Mountain Bikes
There is no such thing as a mountain bike really, they tend to fall into one of three categories:
Cross-country bikes - tend to be lightweight, with front or dual suspension. They also have strong brakes and a wide range of gears to help you cope with a variety of mixed terrain. Tyres will be wound two inches wide and of the knobbly variety in order to allow for off-road access.
Downhill bikes - more robustly built with a longer travel suspension, different frame geometry and tougher tyres and wheels. They are designed to get you downhill fast.
Four-cross bikes - somewhere in between cross-country and downhill. They are specialised bikes with small agile frames and a long travel front fork.
Mountain Biking Kit and Clothing
You don't need to buy tonnes of stuff when you start off, as most things can be hired from mountain bike centres, but if you are serious about getting into the sport you need to consider:
Clothing - dress for the weather! It's best to wear clothing that is specifically designed for cycling as it will help to draw moisture away from you. If you are planning on doing a lot of cycling, then you may also want to invest in some padded shorts. A lightweight rain jacket is also a good idea in the UK!
Body armour and pads - worth investing in if you want to reduce the likelihood of injury. You can buy soft-shell armour if you are going to be sticking to trails, or hard-shell armour for more technical terrain. Knee pads are also a good idea, but they should be light and non-restrictive, so they don't hinder your pedalling.
Helmet - another essential piece of kit in case you come off your bike. Mountain biking helmets are designed with a firm, secure fit and have enhanced rear-head coverage. They will also help to keep your head well ventilated when you are at low speeds. If you are taking part in downhill racing, then you will need a helmet designed specifically for this, in order to get full-face protection as you will be travelling at high speeds on dangerous terrain.
We hope you have enough information here to get you started in mountain biking - please share your progress with us on our social media channels using the hashtag #outdoorsmadeeasy