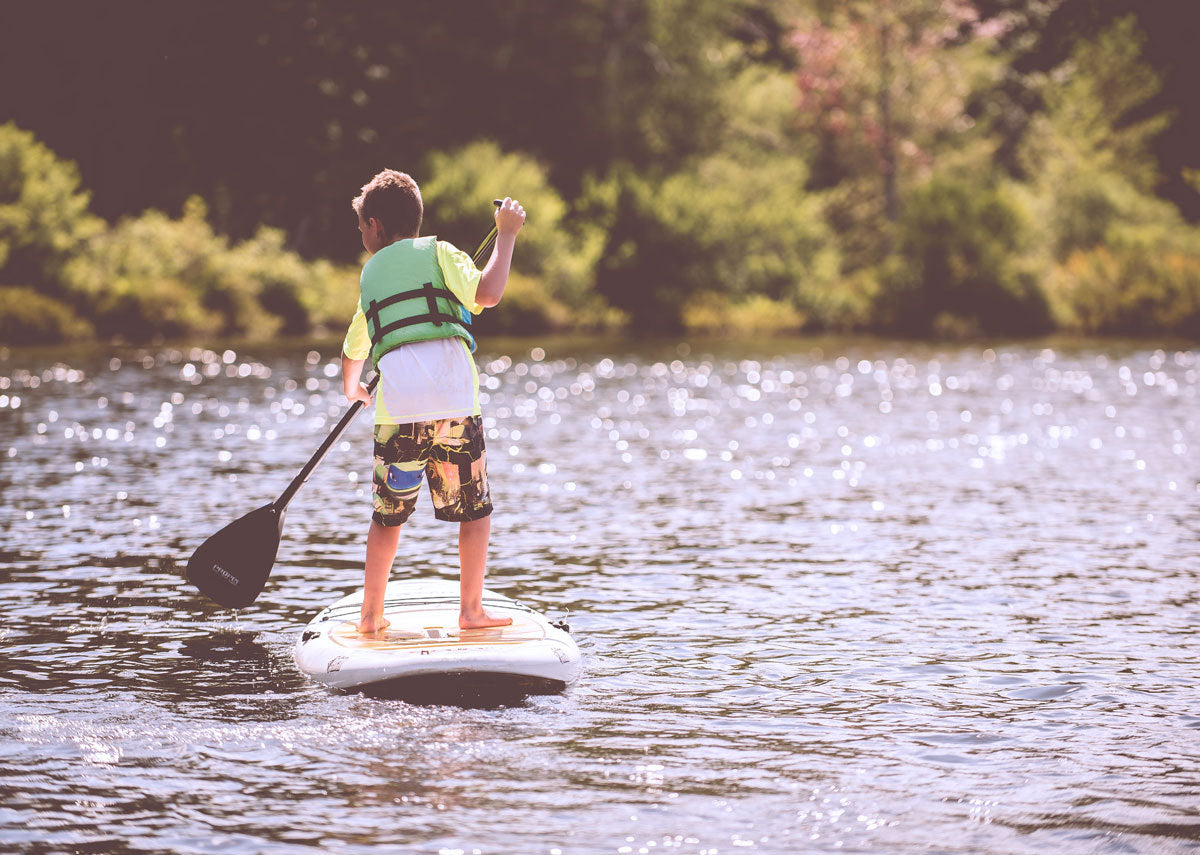 When you are heading out on your great adventure, with your changing robe and dirtbag in tow - do you think of ways to involve your children, or do you leave them standing on the shore for safety reasons? 
At what age can you introduce your child to stand up paddleboarding in the sea? What equipment will you need to ensure they are safe? On what bodies of water should you allow them to paddleboard and under what wave and wind conditions? In this article, booicore aims to answer these questions and more.
How to introduce your child to stand up paddleboarding (SUP)
As with any water-based sport, an introduction to SUP means finding time to do some good preparation first - especially when there are children involved. It is best that you wait until your child can coordinate their movements and swim well (probably around the age of five) and make sure they are wearing a life jacket as well. If you really want to protect them well, you should also think about an anti-UV t-shirt, sunglasses and a hat too.
If you are using a longboard - a board that is more than 12 feet long - then you can place your child on your SUP while you are paddling to start with. This way they get used to the water and how you glide on it and then maybe progress to them standing up with you once they have got the hang of it.
To ensure you can balance properly in the water, you should ensure your child is as close to the centre of the board as possible - they can even lean back on your knees if need be.
On what body of water should you introduce your child to SUP?
It is crucial that you choose a body of water that is right for an introduction session - for both adults and children.
Go for a quiet and sheltered spot with no current action and no swells or choppy waters. Rather than head to the sea for your child's first go, you may want to consider a lake or pond where there is a sandy or pebbly area to help with the launch and the water is not too cold.
Keep a close eye on weather conditions as well. If it is cold, rainy or windy on the day you had planned to take your child for their first SUP experience, then postpone it to a better day. You don't want anything to dampen their enthusiasm before they even step foot in the water!
It is also key that you don't underestimate the level of challenge involved for your child. If you are an experienced paddleboarder, then you may think it's easier than it actually is, but your child may actually find it much harder than you thought.
What gear should you make sure you have to get your child into SUP?
Start your child off with a beginners' board, a stable one that is wide without being too long and heavy. You need to make sure that they can carry it without struggling, as well as being able to manoeuvre it easily onto the water – for example a blow-up paddleboard might be best.
It is also important that the paddle you choose is perfectly suited to their size, allowing them to make sufficient movements without risk of injury. An adjustable paddle might be a good idea, or one that is specifically designed for children.
Before you hit the water, spend a bit of time on the shore talking to your child about the water and explaining the principles of paddleboarding. Then, enter the water together and let your child paddle out to where they can touch the bottom still - and make sure you stay with them to give them confidence and help them with their moves.
Hopefully, you have a good idea now of how to introduce your child to one of your favourite watersports - SUP. You'll also be pleased to know that they can share your love of booicore too as our adult changing robes come in kids sizes too - so you can both get warm and snuggly in your changing robes together after your latest adventure.