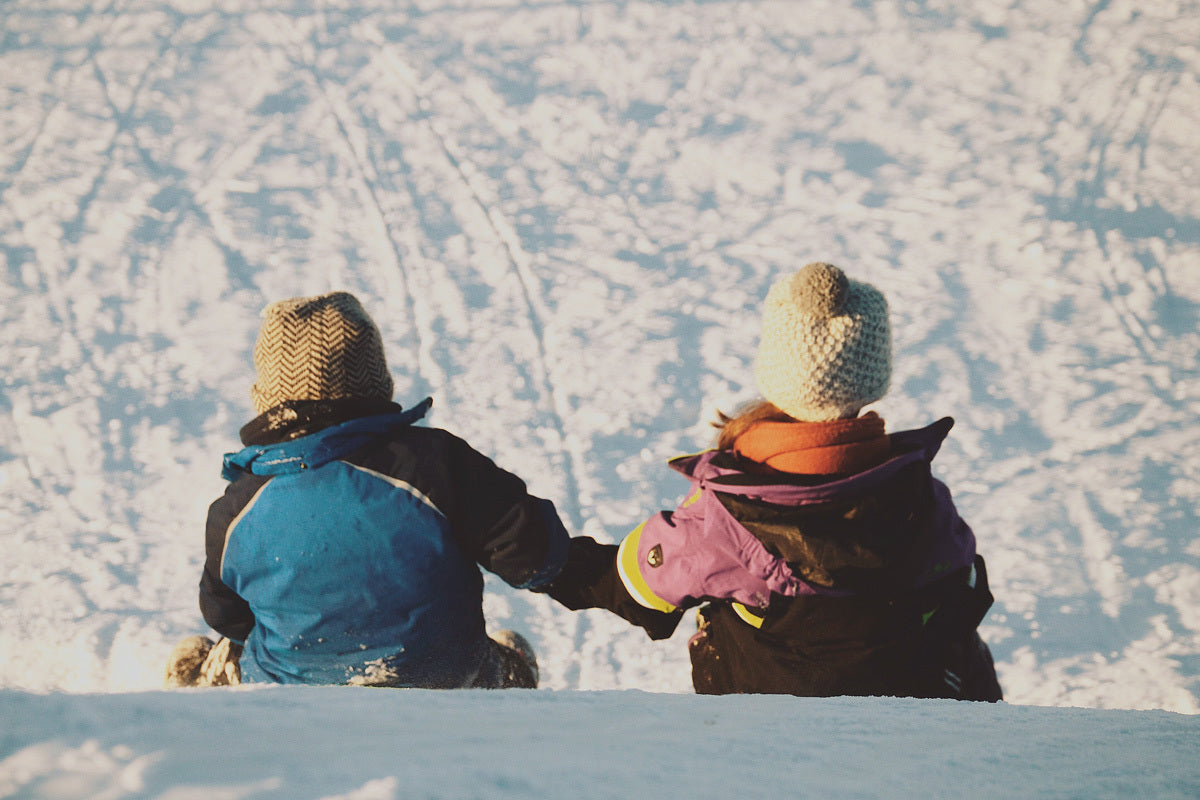 Winter is here, but that doesn't mean that the great outdoors is now off-limits. Getting outside for a breath of fresh air and a run around can be as good an idea in winter as it is in spring or summer. In fact, it could just be the solution for the cabin fever that is reaching boiling point after such a long time being stuck indoors.
It is easy to enjoy some winter activities with your kids, as long as you have the right gear. Make sure they are wrapped up warm in waterproof gear from head to toe and have their booicore kids changing robes on hand for the end of the day and you'll be guaranteed to see a smile on their faces.
If you're ready to take on winter and get outside with your family, then here are our top five picks for winter activities for kids.
#1 Winter scavenger hunt
Scavenger hunts are great outdoor activities for kids at any time of year, but especially in winter. They not only help kids to connect with the natural world, but also keep them entertained while on a long family walk. The Woodland Trust have some awesome ideas for items you can include on your winter scavenger hunt list, including:
Animal tracks on the ground
Bumpy bark
Fallen cones
#2 Make a bird feeder and get watching
Birds can do with a bit of a helping hand in the winter, especially when the snow and ice hit and this can lead to a fantastic winter activity for kids. Grab an old plastic drinks bottle or yoghurt pot, some string and some birdseed to make a simple bird feeder (the RSPB has some easy to follow instructions) - and hang it on a branch in your garden. Then all you have to do is watch - and see how many British birds you can spot.
#3 Geocaching
If your kids love a challenge and you want to get them out and try something new with a reward at the end, then why not try geocaching? This activity involves using a GPS to track down mini treasure chests - but there is one rule - if you take something you have to leave something.  The funny thing is that you probably walk past several geocaches on a daily basis and don't even realise. They could be things such as micro-caches which are hard to spot, or even quizzes to solve. The kids will love hunting for treasure.
#4 Bike riding
Just because it is cold, doesn't mean family bike rides have to stop. Head to a trail through wood or disused railway tracks as they tend to be less exposed than other trails and have firmer ground for younger cyclists. Just make sure your kids have gloves on as bike handlebars tend to get cold and you may even want to adjust their helmet so you can fit a hat underneath.
#5 Ice egg hunt
Egg hunts aren't just for Easter, an ice egg hunt is an awesome thing to do with kids in winter. Pop some small toys inside a balloon and then add some water coloured with food colouring. Freeze them - in the freezer or by leaving them outside - and then cut away the balloon.  Hide them around the garden, write some clues if you're so inclined and then set the kids off to find them. Once they are all found, create a 'nest' where they can defrost to reveal the treats inside.
Don't let winter hold you back. With our list of winter activities for kids at hand, we're sure you will be longing for wintery days more often.