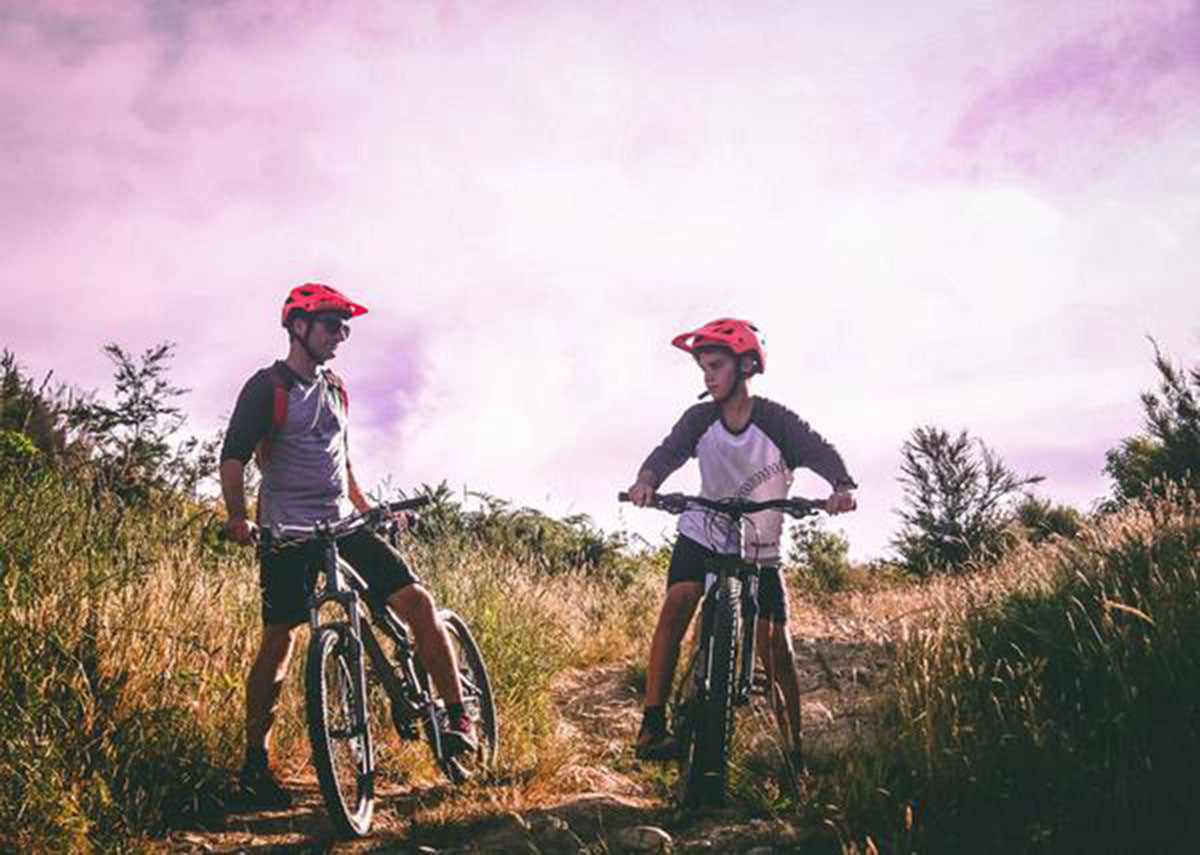 Here at booicore, we're part of the mountain biking family- we love nothing more than grabbing our bikes and heading out to explore the wide range of mountain biking trails we have in the UK. And we're not alone in that, mountain biking is becoming more and more popular, with many wanting to take part - which we think is great! 
But if you have kids how do you encourage them to take up mountain biking? Young riders can often be fearful of proper mountain trails and worry that they won't have the mountain bike skills necessary to have a successful ride. So, we've pulled together our top tips to help beginner mountain bikers get off to the best start:
Tip One: Share your love of mountain biking with them
Before you even set foot on a bike, you should spend some time sharing your love of mountain biking with your kids. Talking to them will help you not only gauge their level of interest in the sport, but also whether they have any friends who are interested as well - because riding with someone else is always more fun.  Help to get them enthused about learning a new skill by talking passionately about what it is about mountain biking that you enjoy - whether that be the adventure side of it or exploring new bike parks.  Then offer to take them on their first ride - either just the two of you or invite one of their friends along for company.
Tip Two: Find the right kids bike
Nothing is more important than buying a bike that's right for your child's body structure and height. The more comfortable they feel on a bike, the easier they'll find it to enjoy the ride and potentially take their skills up a notch. Riding a bike that isn't the correct fit can not only hamper their riding efforts, it can also be a safety concern. The easiest way to make sure they're riding the correct bike is to visit your local bike shop. Let the child sit on a few different bikes before opting for the one he or she finds most comfortable. Including your child in the buying process will also endear them to the sport more.
The other thing to do when you're at the bike shop is to look at protective gear as well - including such items as a helmet, elbow pads, knee pads and gloves.
If you're not sure that your child will stick mountain biking out, then why not hire a bike first before committing to purchasing one. Your bike shop should be able to give you some advice about the best way to do this.
Tip Three: Start slowly
One of our favourite things about mountain bike riding is the adrenaline rush we get - which gives us immense joy. However, you can't expect a child to want to experience that same rush straightaway.  It can be easy to get swept away in the fun of it all and then end up doing something that'll put them off for life.  Rein yourself in and start small. Stay on flat terrain with them and practice things like balance exercises (perhaps using a balance bike), body positioning and how to get the stance right. Once they have mastered this, you could move on to the local park and use flat rocks and small logs to help them get used to more difficult terrain. Let them move on at their own pace, don't rush them too much. After all, learning the process can be as much fun as actually completing their first ride.
You may even be lucky enough to have a bike club in your local area which offers introductory lessons for young riders with a coach. This may be easier for them than learning from you, and they might meet other young riders as well.
Tip Four: Move onto easy trails
Even when they've got the hang of all the basics, don't rush them and go straight to the rough trails - instead stick on the easy trails for a while. You probably have broad off-road trails or paved trails nearby, and these are perfect places for your kid to start their mountain biking career. Let them set the pace as well, they'll probably be tired before you are, but don't force them to complete the trail, keep it light and enjoyable and they'll soon be out biking you!
Tip Five: Use the opportunity to develop your relationship
All too often we get stuck in the rut of saying 'do it this way...no, don't do that'. Take the opportunity to develop your relationship with your child while teaching them to ride by encouraging them at every opportunity and working through problems together. This will not only make the whole process more memorable for you both, but will also strengthen your bond as well.
Tip Six: Walk them through trails first
When kids are learning to mountain bike they'll always have an element of fear about the unknown, and it's important to recognise that. The best way around this isn't to shout and force them to do things they don't want to, but get off your bike and walk the trails together. You can talk them through it as you walk, discussing difficult sections and deciding on the best way to approach things. You may even learn something new yourself! 
Mountain biking is a fantastic family activity as it not only encourages children to do something healthy but it can really strengthen your relationship as well. Just remember that the end goal is to have fun, so why not share your fun family moments with us on Instagram using the hashtag #booicoremoments