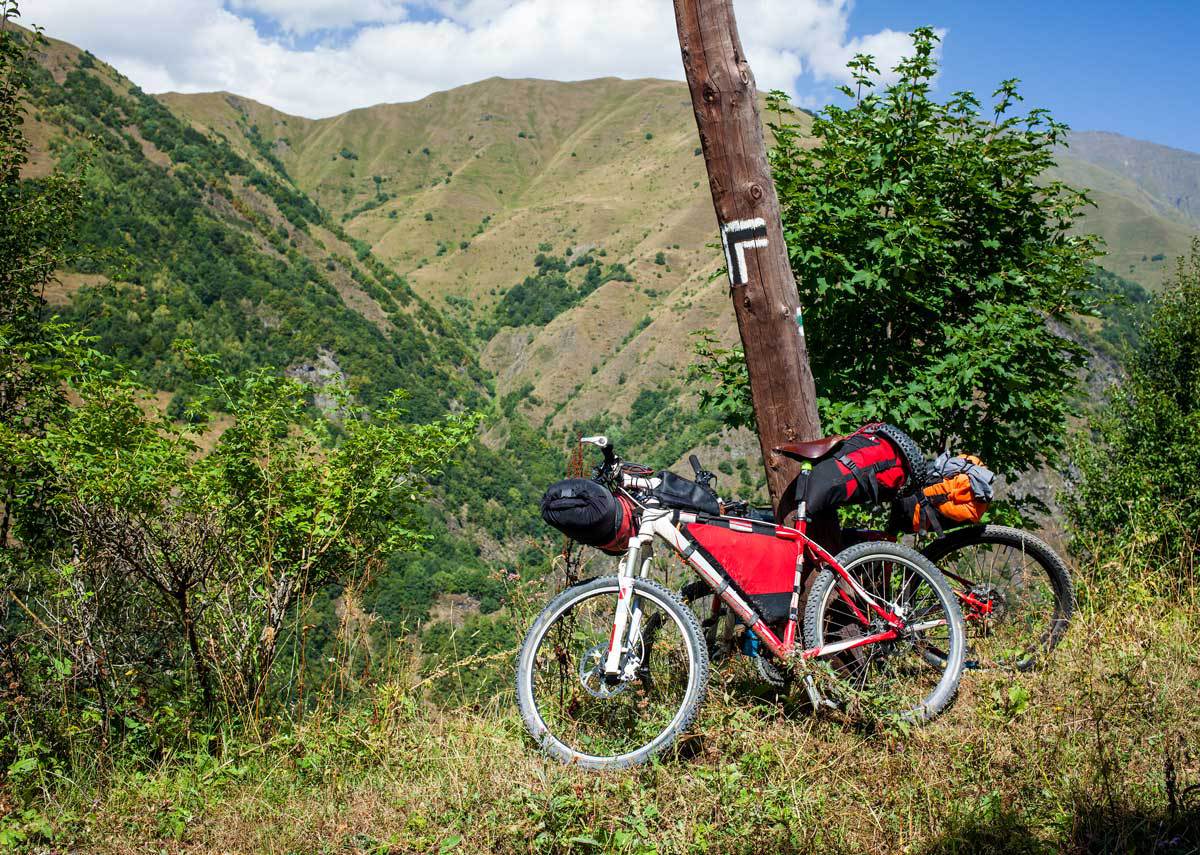 Bikepacking is the latest buzzword in the world of biking. It's all about adventure - off-road rather than touring - with as little gubbins strapped to your bike as possible. 
What is bikepacking?
Bikepacking is a multi-day tour by bike, either completed entirely off-road or on mixed terrain. The rider has to carry their equipment with them on their bike.
Biking, or cycling, has boomed in popularity in recent years, not least this year (2020) with the COVID 19 pandemic forcing more people on their bikes in order to get fit, and keep the kids active during school closures.
For those of us who love the sense of adventure that mountain biking brings, bikepacking is the next level - forcing us to seek out new adventures and really test ourselves.
Bikepacking is not a new phenomenon - people have been loading up their mountain bikes with dirtbags to do a bit of lightweight off-road touring for many years, but it's only recently that travel companies have started to promote the idea. It seems to appeal to people as it's a cycling activity that isn't focused on racing, and it's now easier than ever to get the relevant equipment.
Where can you go bikepacking?
Technically, the thrill of bikepacking is that you can go wherever you want. You can explore any expanse, path or road that you like - as long as you follow the "Leave No Trace" principles and leave the space in the same condition you found it.
If the idea of not having a route in mind scares you a little, don't worry. There are plenty of set bikepacking routes available, which will guarantee you a great ride even if you don't want to pull the route together yourself.
You could start with a solo 24-hour adventure so that you can get your head around the idea at your own pace, and then build up to an organised, larger scale endurance event such as the Tour Divide.
Is bikepacking safe?
Bikepacking safety is a commonly asked question, and it's hard to answer as it really depends on who you are. In general, wild animals and people aren't usually out to get you - and in fact, you may be safer out in the wild than on the average road on a Sunday morning.
However, if safety concerns you then instead of going out alone, plan to go riding with a group of friends. That way you'll feel more comfortable, and you'll be relaxed enough to realise that what you're doing is pretty safe, and you may even be brave enough to do your next ride alone.
What equipment do you need for bikepacking?
A bike. The type depends on your aims and the routes you plan to take. A gravel bike may be best if speed is your main concern, but a mountain bike will handle more demanding trails. The most important things to consider in an off-road bike are disc brake compatibility, luggage mounting options, mud clearance and wide tyres.
A strap-on bikepacking bag as these alter the weight distribution of the bike less than panniers will - and they're also not as wide.
A lightweight tent, a bivvy bag or a hammock - depending on your preference and how close to nature you actually want to be
A lightweight portable stove for cooking
Spares - chain quick link, extra chain lube, electrical tape, inner tubes, puncture repair kit and a spare mech hanger
So, that's it - all you need to know about bikepacking. Grab your bike, your kit and go explore. Trust us, you'll be hooked!