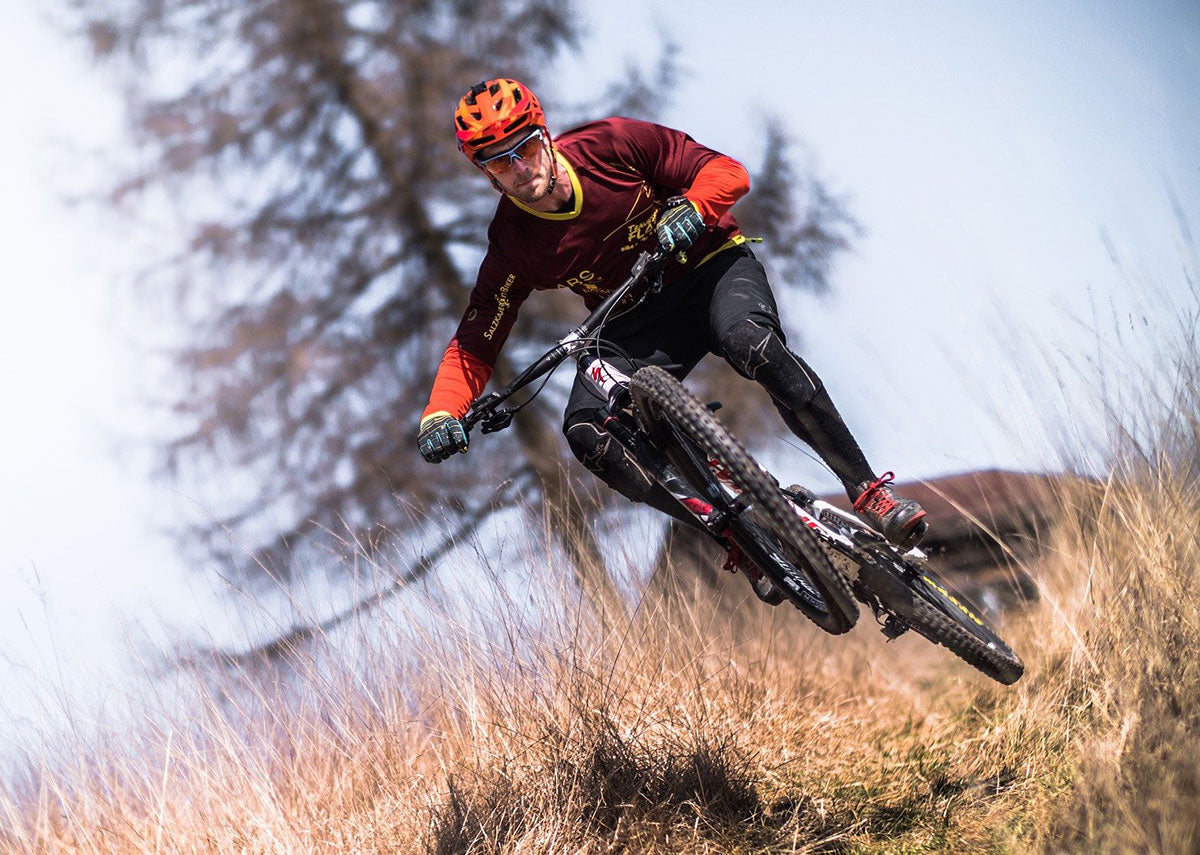 We like to get out on the trails a lot (in case you haven't realised) and even we are amazed at how many different bikes there are out there, which can make it difficult if you are trying to decide which mountain bike is right for you. Before we take a look at the different types of bikes though, let's take a look at the difference between trail riding and cross country riding. This is because the kind of trail you prefer riding will influence the type of bike you choose.
Now, before you get all snotty on us, we are not saying you can only ride trails, or you can only tour cross country, we are just generalising for the sake of this post. Yes, the two styles of riding do crossover, and trail riders also like cross country and cross country riders like trails. OK?!
Trail Riding
This tends to be more of an adrenaline rush than cross country - with more significant obstacles and features. Trails often feature long climbs, but these are soon forgotten on the downhill with lots of drops, jumps, berms and rock gardens. There are a wide range of trails out there, but serious bikers prefer black diamond trails as they are more technically challenging and fast.
Cross Country Riding (XC)
This may be a little confusing for some, but cross country riders also ride on trails. The trails they participate in though tend to be twisty single tracks with only the occasional jump or rock drop. Cross country riding can go from a short, hard ride to a longer event that is more about endurance.
So, these differences in riding styles mean that trail bikes and cross country bikes are designed and built differently. So, when you are deciding which mountain bike to buy you should look at:
Front Fork
On an XC bike, this will be fully rigid and made or either carbon fibre or steel. It needs to be fully rigid in order to offer trail sensitivity and give more precise handling to the rider. This type of fork is generally lighter and so will rely on an air spring to keep the weight down.
The front fork on a trail bike will be heavier and bulkier than an XC bike, with legs (fork stanchions) to increase stiffness. This helps with steering precision when the rider is trying to get through the rough countryside at speed. There will be a fork lockout as well, and some may even have travel adjustments on so that the rider can lower the front of the fork when climbing.
Frame Design
XC bikes tend to have steeper head angles and shorter top tubes in order to allow for sharper handling.
Trail bikes, on the other hand, tend to have longer top tubes and shorter chainstays to allow the rider to stay over the bikes centre of gravity. This means that they will have a more stable ride, even when things get rowdy and technical.
Wheel Size
The wheels on XC bikes tend to be narrower than trail bikes, so they have lower rolling resistance and less aggressive traction. This means that the wheels will roll over obstacles more easily and they will, therefore, be faster!
Trail bikes tend to come in several sizes, with 27.5" and 29" being the most popular. Each size has its own pros and cons, and there is much debate amongst trail riders as to which is the best.  It really is up to personal preference at the end of the day.
Seatpost
The seat post on XC bikes has traditionally been rigid aluminium or carbon as these are lightweight and tend to be maintenance free. Some riders are now trying out some of the lighter weight dropper seat posts as this allows them more control on the downhill sections without adding too much weight.
Most trail bikes come with a dropper post which allows the rider to move the seat out of the way when hurtling down hills or during a really technical section of a trail. The fact that you can move the seat out of the way means that rider has more control.
So, which type of mountain bike rider are you? Cross country, trail or somewhere in between? As with everything there is always a crossover - yes, you can ride a trail bike in a cross-country race, and you can ride an XC bike on a rocky trail. At the end of the day, it is all down to your personal riding style and the trail options you prefer.
Whatever mountain biker you are, booicore have the gear you need. From dirtbags to carry your kit, to
changing robes
to protect your dignity and key straps to keep your keys safe, make sure you check us out before your next trip. Keep biking!