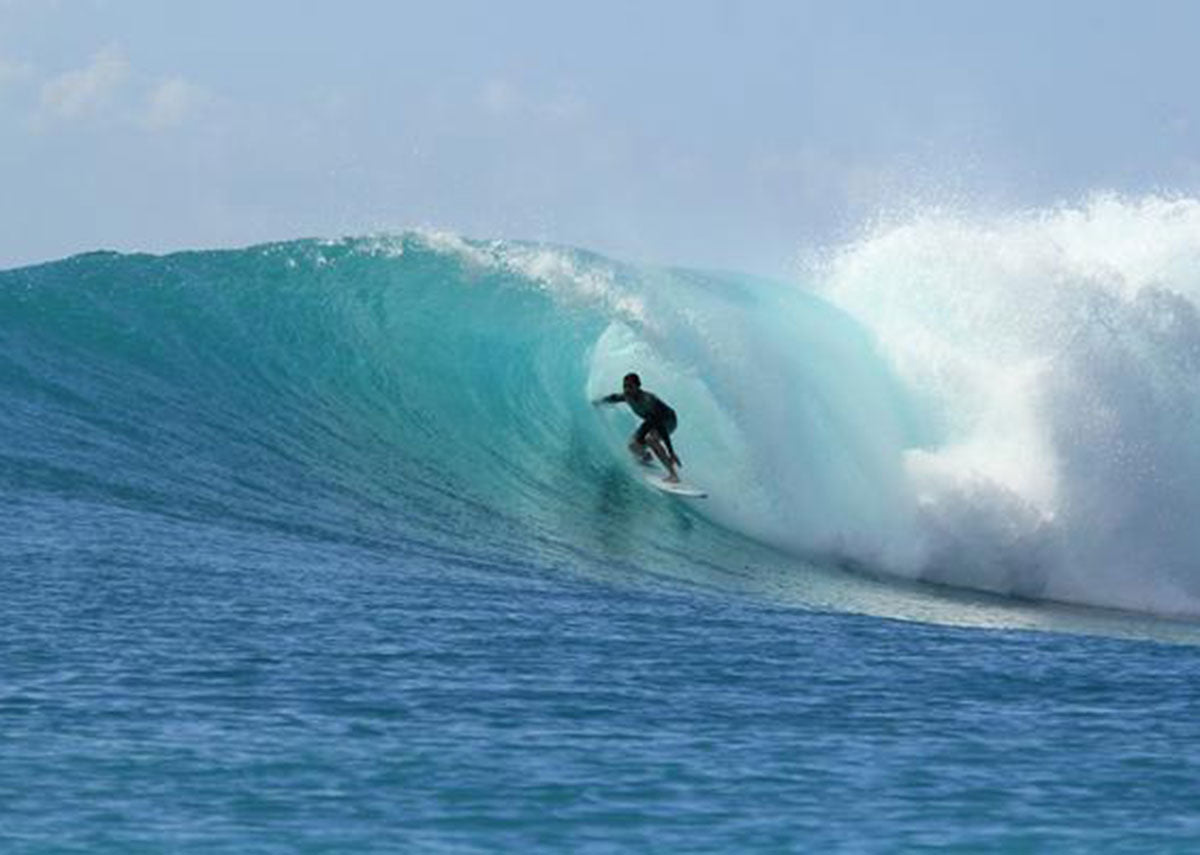 Mountain Biking is our first love here at booicore, but surfing follows quite close behind. If you haven't been surfing before, why not make 2019 the year you do? It is not the easiest water sport in the world - you won't be barrelling within your first few sessions, but if you persevere you will improve every time you get in the water and that is one of the most rewarding feelings ever. Set yourself small goals and you will soon start smashing them and falling head over heels in love with this sport - like we did.
Surfing is a tough sport, no doubt about it, but there are a few common mistakes that beginners tend to make, that means you will make a much better start if you avoid them. That's why we have rounded up some of our top tips to help you get your head around the basics before you get in the water for the first time!
Wetsuit
You might think it sounds daft but actually, a large number of people do manage to put their wetsuit on the wrong way or even inside out the first time they put it on. If you've ever worn a wetsuit, you will know it is not the easiest thing to take on and off, so you don't want to be doing it multiple times - especially if the weather is warm. 
Before you put your wetsuit on, take a good look at it - if it has a logo on then this usually goes at the front on the outside.  Also, take a look at the zip: if your wetsuit features a long vertical zip, then this goes at the back; if your zip is on the shorter side and horizontal, then you have a chest zip wetsuit and so the zip needs to go at the front.
If you are surfing in the colder months, then you will probably need a hood, gloves and boots - in which case these need to be tucked into your wetsuit in order to make sure that no water enters them. Whatever the weather, you will also need a booicore surf poncho to dry yourself off with after you come out of the water and help protect your modesty while you are getting changed in the beach car park!
Fins
We've lost count of the number of people we have seen who have their surfboard fins installed facing the wrong way - a minor issue you might think, but one that can make it harder than usual to get going on your surfboard. All you need to know to avoid this is to keep the tip of the fin facing the back of your board in order to make sure it follows the direction of the water. You may have a board which has three fins, in which case you need to identify the central fin first, which is the one with two curved sides. The other two fins will have one flat side and one curved side and they need to be placed so the flat side is facing inwards towards the board.
Wax
Another common mistake that many beginner surfers make is to wax their board incorrectly - remember, surf wax is only meant to go on the top of the board and not the bottom! This is because it is designed to provide traction and so you need to cover 2/3 of your board in it - from the tail to the chest area.
Board Size
Now you may think as a beginner you should opt for a smaller board and work your way up to a large one, but the opposite is true. The smaller your surfboard is, the harder it is to paddle and the fewer waves you will catch. This will be highly frustrating and mean you will probably give up on your first go!
Carrying Your Board
Do not ever, ever, ever drag your surfboard along the beach as not only does it look totally uncool, it may also damage your board. Instead, you should carry it on your hip under your arm, on your head or get a friend to help you. Also, make sure you wrap the leash around the tail of your board and secure it on the fins so that it doesn't drag along the sand which will affect the Velcro badly.
Leash
Talking of the leash, it should be attached to the ankle of your back foot, so if you ride with your right foot forward then it should be attached to your left foot and if you ride with your left foot forward, it should be attached to the right.
Waves
The first few times you go surfing you should make sure that you are on a beach that has a safe surf break, as the current won't be very powerful, there will be no dangerous hidden rocks and the waves will be more manageable. You may even want to think about taking part in a surf camp or surf lessons so that you know that you are in capable hands and can get some guidance on how to identify the right conditions.
Before you head off and hit the waves, head over to our booicore website and grab yourself one of our awesome towelling robes which dry quickly. Happy surfing!