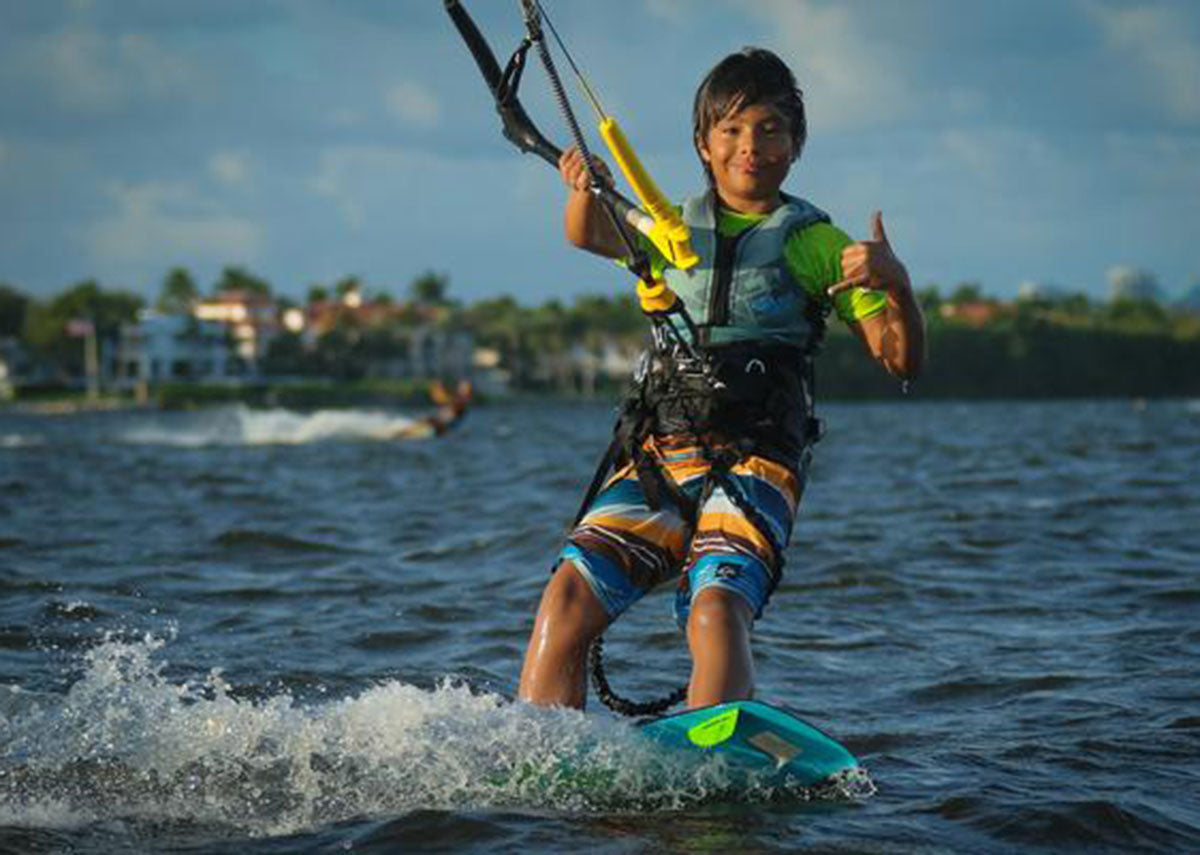 We don't always have the weather required to enjoy extreme sports here in the UK, but one thing we do have a lot of is wind! The wind is one of the essential elements needed to enjoy one of the coolest water sports there is - kitesurfing. But how do you get started, where can you learn, how much do lessons cost and how long does it take? Read on to find out more...
What is Kitesurfing?
Kitesurfing is the name given to the sport where you use a kite to propel you and your board across the water. Although it mentions surfing in the name, it doesn't have to be done on waves; you can enjoy wave surfing on flat lakes as well - you just need water and wind. 
Kitesurfing is an enjoyable sport, especially once you have grasped the basics. Staying upwind and riding along are the first things you need to understand and then you can start practising jumping, riding waves and going faster along the coast.
Will you need kitesurfing lessons?
As with any sport, beginners' lessons are essential, as not only will you be able to crack on with learning the sport more quickly, you will also be given a grasp of critical health and safety procedures as well.
There are lots of places where you can learn to kitesurf in the UK - and not surprisingly, most of these places are on the coast. You can choose from weekday or weekend lessons and book online at most locations - at a time that suits you.  Alternatively, you could join up your kitesurfing lessons with a holiday abroad at a kitesurfing camp anywhere from Brazil to Sri Lanka.
The best way to choose a Kitesurf Instructor or School?
You need to make sure that your instructor has completed a course with a recognised body such as the British Kite Surfing Association(BKSA), IKO or VDWS. On top of this, you should also look for someone who has experience in surfing as well so that they can coach you more successfully.
What kit will you need for lessons?
Any good kitesurfing school will provide you with the equipment you need for your level of experience and the range of weather conditions. However, you should check with them first, as you may need to bring your own wetsuit. Don't forget about sun protection as well, especially if you are learning in the summer or abroad.
What kitesurfing basics will I be taught?
The basics of kitesurfing can be broken down into three elements:
Flying a kite on land - which will involve launching, landing and kite control
Flying a kite in water - control and re-launching
Getting up and riding on a board
You will also be taught about learning to assess whether the weather conditions are right and safe for kitesurfing, choosing the right equipment for the conditions, safety procedures and what to do in the case of an emergency and how to stay upwind.
How will you know when you are ready to stop your kitesurfing lessons?
If you are learning with a suitably qualified instructor then they will tell you when you are ready - for example, IKO will sign you off when you reach level 3. However, just because the instructor thinks you are ready doesn't mean that you have to go off on your own. If you don't feel ready, then don't be afraid to book more lessons or a refresher course - it is better to be safe than sorry.
We have given you a brief introduction to kitesurfing here. Hopefully, we have whet your appetite to want to start to learn this exciting sport — time to grab your board, kite and surf changing towel and head to the beach.