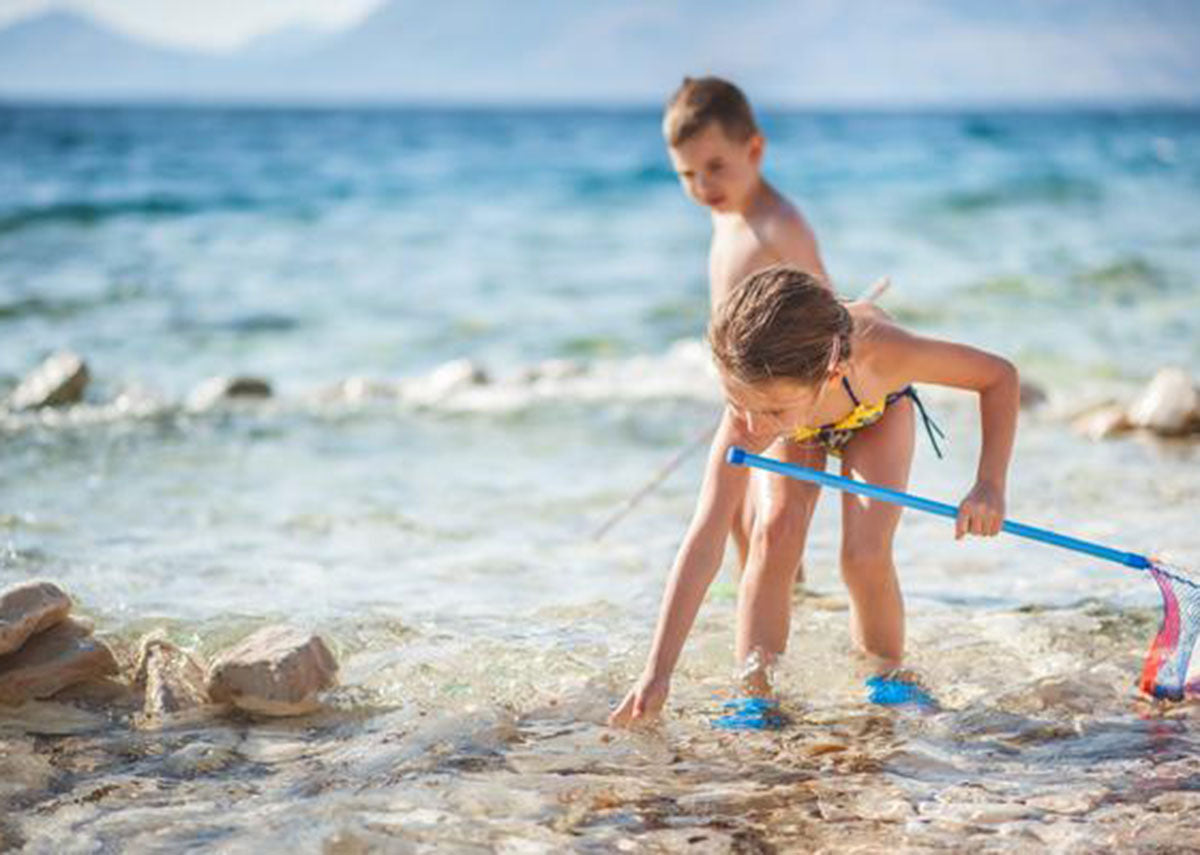 We are huge fans of days at the seaside here at booicore - nothing beats the waves breaking over your feet and the sun on your back after all! Beaches are also great places to spend time as a family, with a significant amount of wildlife to discover - such as scurrying crabs in rock pools, graceful and noisy coastal birds and beautiful rocks and shells to take home to help you savour the memories. 
Here are some of our favourite activities to get the family involved in at the beach to make sure that everyone has a fantastic day out.
Go Fishing
You don't need a rod and a boat to catch treasures on the beach, just find a suitable rock pool and you should be able to get some exciting things in your net. You might discover blennies (small bottom-dwelling fish), five-beard rocklings (small and brown with five barbels in its head) or even gobies. If you are catching things in your net, don't forget to put them back in again once you've had a quick look and never, ever leave them in the sun - you want other families to enjoy them too, don't you? Watch out for poisonous varieties such as spiny fish and weavers as well.
Kite Flying
Even on the sunniest of days at the English coast, there will still probably be a bit of wind - perfect for kite flying. You don't need anything too fancy, just two lolly sticks, a hanky and some string will do! It's also a great way to get your kids interested in nature, as you can ask them to look out for seabirds on the cliffs as well.
Stone Skimming
One of our favourite pastimes as kids and something that we have passed down to our kids, it stone skimming. Flat, smooth stones are the best and you can spend hours looking for just the right one to get the perfect skim. And the look of concentration on kids' faces as well when they are attempting to skim; well, sometimes they have to be seen to be believed! Challenge your family and friends to a competition - who can bounce their stone the most?
Wave Jumping
One of the best free activities at the beach is wave-jumping - after all, that's what waves are for, isn't it? Whether they be large or small, you can have hours of fun jumping over them - why not see who can jump the highest? Make sure you take along your kids towel robe for afterwards though - some of those waves can be pretty cold!
Whichever beach you and your family are heading to this summer, booicore has all the gear you need. Enjoy!