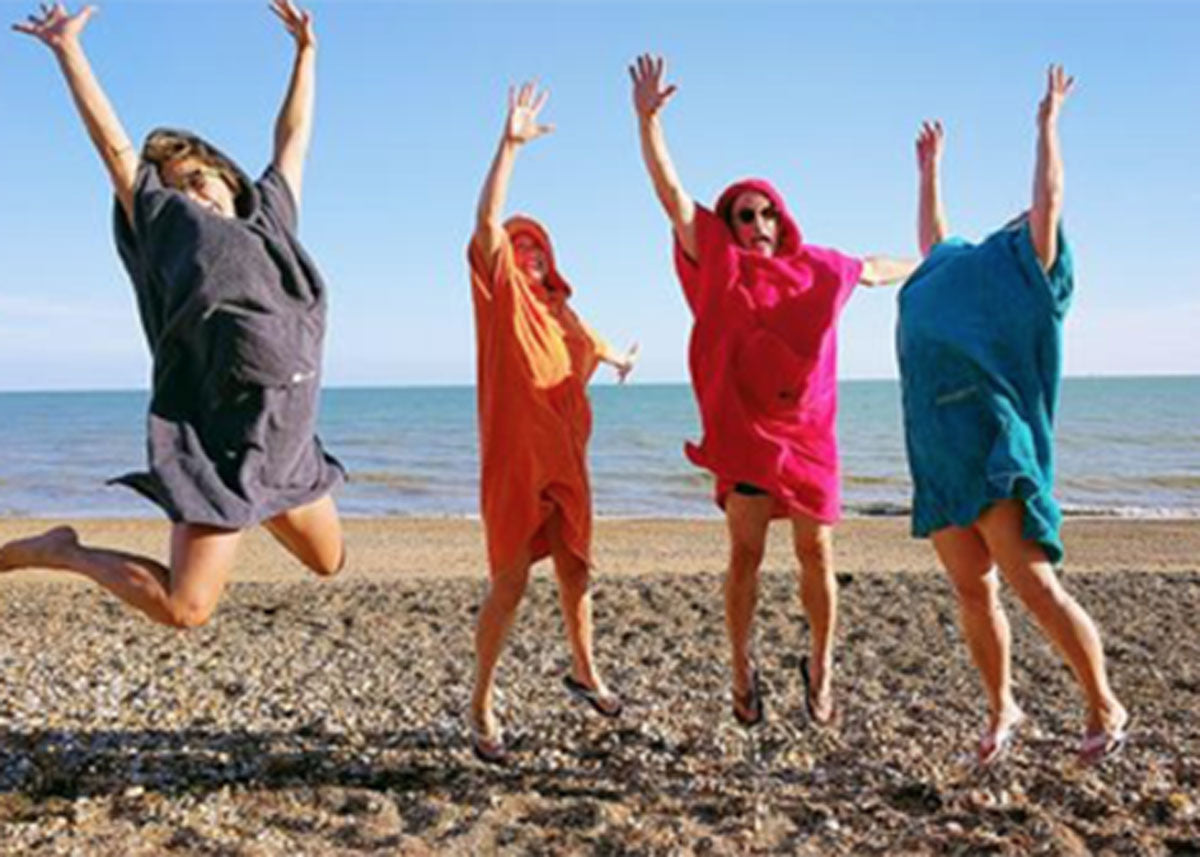 It's the weekend, time to load up the car, grab your bike and head out to the hills. You've spent the day enjoying yourself, riding through puddles and sliding through mud, and now it's time to head home. You don't want to get the car dirty, so you strip off in the car park, flashing whoever strolls by - not a problem, right? Right? 
Hmmm, maybe not. Back in the day, baring all wasn't seen as a problem – but that isn't necessarily the case these days. Not everyone will be happy to see your bits as they stroll on by, and you may not feel comfortable parading about in your birthday suit either. This was something our co-founder Julian struggled with for years, which is why he put his head together with his garment manufacturing wife Anita to come up with a way to get changed wherever you want, keeping your bits covered and staying warm and cosy at the same time.
The booicore poncho towel is revolutionary - a portable changing room and comfort blanket rolled into one and stored in a bag. Whether you are mountain biking, surfing or swimming in your local pool, you can appear in your wetsuit or bathing suit as if by magic and change back into your clean clothes without the usual struggle.
Think about what it feels like when you come out of the water after a morning surfing - you're damp, you're cold, and you are probably starving! You are also probably scrambling about for your car keys with freezing cold fingers. If it's raining as well, it will all add up to a bit of a miserable end of the day. With our surf poncho towel, many of these issues will just disappear - there will be no more scrabbling about for a sand-covered towel. Instead, you will slip into a great quality beautifully made hooded poncho towel that will keep you warm and dry.
Not only will you be able to get undressed secure in the knowledge that your bits are safely covered up, but you will also not run the risk of dislocating your shoulder or twisting your elbow to get your t-shirt on! Our beach poncho towel is long enough that you can strap your surfboard on the roof of your bike on the back of your car without worrying about what you might be showing off.
But why are poncho towels so much better than the rectangular beach towels of old? Well, beach towels are OK as far as drying yourself goes, but they fail miserably in terms of ease of entry and exit of your clothing. Never quite long enough, impossible to hold up with one arm and never covering areas that you want to be covered. Time to ditch them we think; use them for drying the dog, and treat yourself to a hooded robe.
Made for getting changed outdoors, the booicore poncho towel allows you to get changed while keeping your dignity intact. Grab yours today and ditch your rectangular beach towel forever.